ARTS 182/6213: Introduction to Sculpture
(Pathways version) 4 Hours, 3 Credits
Professor: Gregory Sholette <gsholette@gmail.com>
Klapper Hall #284: TIME: TBD Download Syllabus: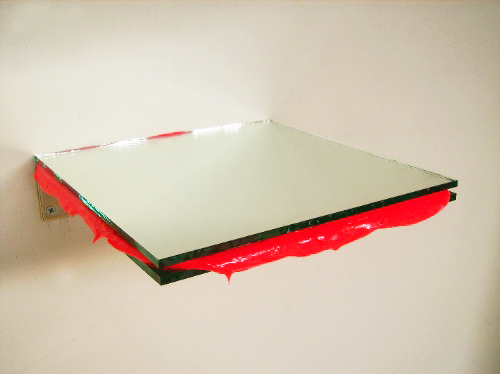 PDF ARTS 182:
Course Description
This course introduces students to the fundamental context of sculpture and three-dimensional design. It is intended for students with no previous experience in this area of study. The course teaches students several about the basic techniques, concepts, and materials found in the sculptural arts through assignments that investigate particular spatial problems requiring both creative expressivity as well as focused research into the history and social context of this important art form. Along with acquiring some traditional, art-based skills as molding, carving and three-dimensional fabrication students will also develop verbal and written competencies related to the evaluation and appreciation of creative work while learning to resolve technical, cognitive and expressive problems at both the individual and collaborative level.
What is the art of Sculpture?
Sculpture and three-dimensional design involves space, materials, techniques, and ideas. It is an art of the extraordinary, as well as the everyday. No longer tied to architecture, mimesis, or commemorative representation sculpture now appears in a variety of forms including as installations, collaborations, projections, appropriations, interventions, performances, and experimental projects that address formal concerns, including issues of urbanism, identity, historical memory, economics, the environment, and even geopolitics. Examples of such "expanded" sculpture include public art made to attach to buildings or to be given away, inflatable homeless shelters and wearable art for street demonstrations.
Why this is a Liberal Arts course
From the poetics of Aristotle to Michelangelo's dictum that artists work "with their head not their hands" to the critical reflections of Henry Louis Gates Jr. regarding the visual portrayal of African Americans in contemporary culture, the creative arts and the plastic arts in particular have played and continue to play a fundamental role shaping our concept of a broad-based liberal education. ARTS 182 introduces students to this complex history as it pivots on the sensuous and material nature of both sculpture and three-dimensional design as a socially significant and influential discipline essential to the well-rounded learning experience of every student.
Course Outcomes
Students demonstrate their knowledge of key sculptural techniques and formal ideas through hands-on workshops and experimentation using a variety of materials and three-dimensional assignments.
Strong communicative verbal and written skills accompany these explorations as students learn how to conceptualize, evaluate and defend their creative work.
Students develop collaborative skills and come to understand how the visual and plastic arts inform broader social realities involving economic, political, and technological change.
Adoption of a basic vocabulary of terms related to the field is gained through research, writing assignments and audio-visual classroom presentations.
A sketchbook of written ideas and drawings is also mandatory and is used as the basis for class presentations, group evaluations, and final critiques of all student work.
WORK IN CLASS includes: oral presentations; class discussions, group evaluation of assignments; modeling and fabricating projects in a variety of materials both individually and in collaborative groups.
WORK OUTSIDE OF CLASS includes: both individual and group research assignments; preparation for six oral presentations; three written papers; and a possible visit to an exhibition of contemporary art (TBA).
* KEEPING A NOTEBOOK is an essential component of this class for working out ideas, developing written assignments and oral presentations, and for sketching each completed project and/or pasting in a photograph of completed student work. These notebooks form a key part of final evaluations and grades.
Requirements, Grades, and Evaluation
25% Attendance & demonstrable involvement in class discussions and critiques.
25% Quality & quantity of sketchbook ideas as related to course content.
25% Clarity of ideas & research expressed in the writing assignments.
25% Degree of effort & imagination shown in oral presentations & workshop projects.
 Full attendance is an obligation: your full participation figures heavily in your overall evaluation and grade.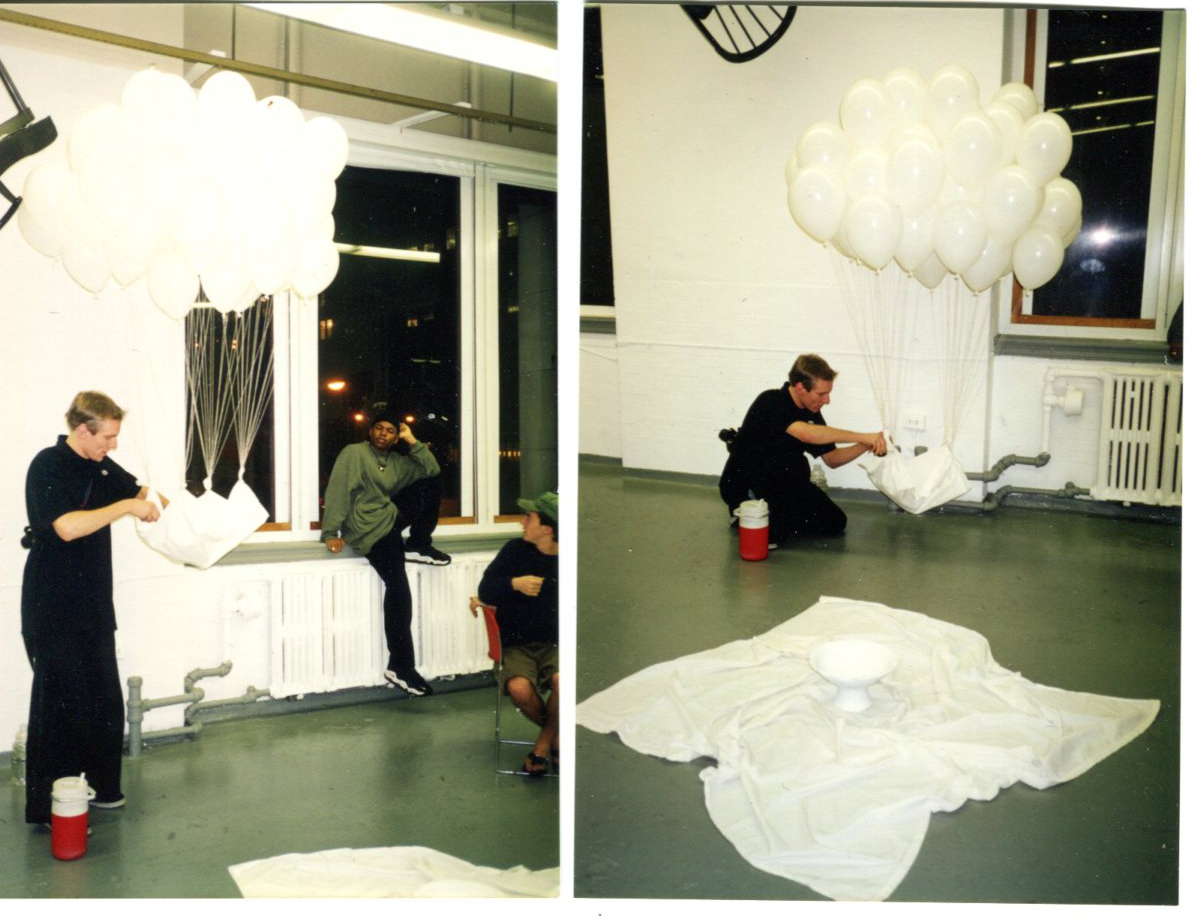 Additional Guidelines And Class Policies
Grading Policy: No late projects will be accepted. If you know that you will miss a final presentation you must arrange to have a member of your group bring the project to class. If you have a serious emergency on the day a project is due (serious emergencies being defined as- the death or life-threatening illness of a family member, a car accident on the way to class, or an illness so serious that you require the medical attention of a doctor or hospital and for which you can produce a doctor's note) you must contact me as soon as possible to discuss your options.
Please show courtesy to the instructors and other students by completely turning off your phones and messaging devices.
It is possible that some of the art and ideas that will be presented might be viewed as controversial or perhaps offensive to some individuals. Everyone in the class should be free to express their views openly and honestly with due respect. Whatever is said in the class remains in the class.
Students are expected to read the assigned materials before the designated date.
Material requirements list.
Sketchbook for drawings, writings & documentation (see *)

One roll of clear packing tape & one roll masking tape

Hot glue gun and two dozen hot glue sticks

Smock or work clothes that can get dirty

Xacto knife (#11) plus extra blades

An 18 inch steel ruler (or larger)

A black marker

A pencil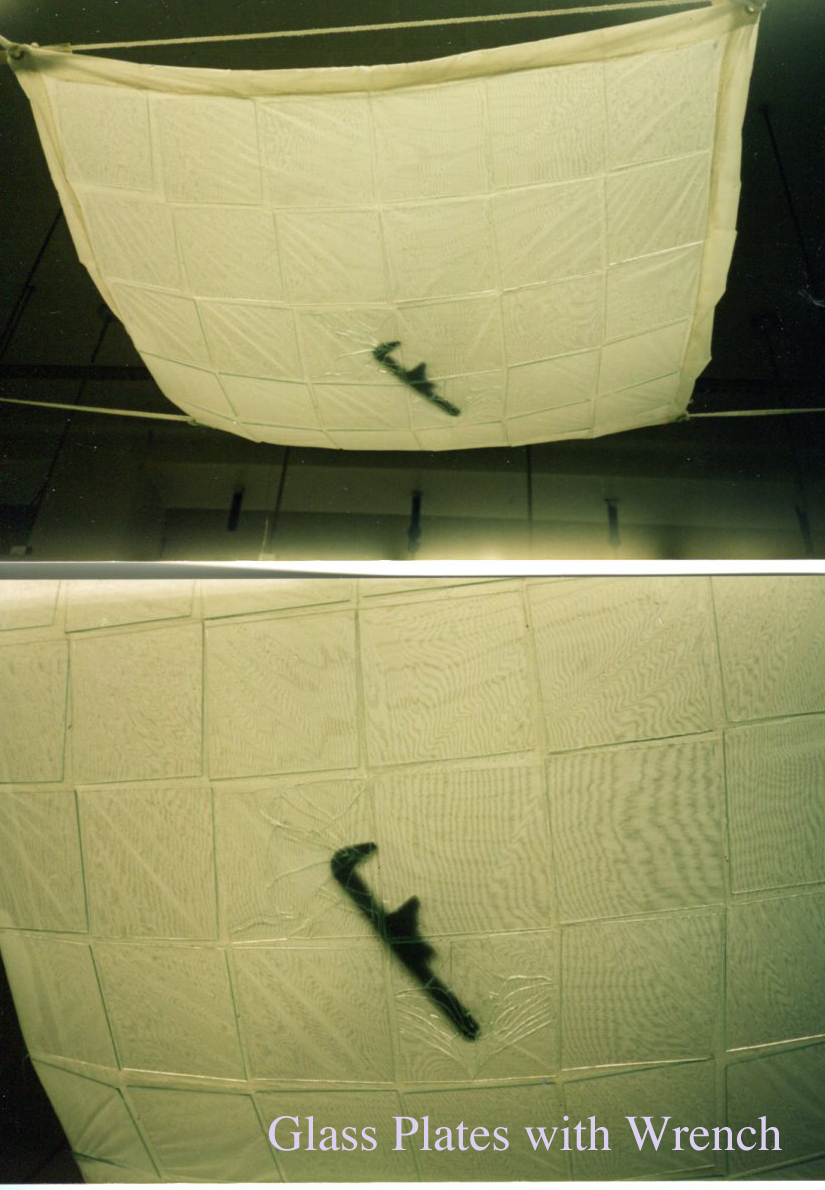 THE SYLLABUS
 Week One: Introductions & presentation: What is contemporary sculpture anyway?
Class Assignment: DEFINE/DEFEND/ OCCUPY /BREACH/REDEFINE (one-day). Designing, investigating, rethinking material space is fundamental to sculpture and thee-dimensional design. This assignment is geared to introducing these spatial concerns while building collaborative and rapid, problem-solving skills. After introductions and a short power point about contemporary sculpture students will break into two groups in order to produce cardboard spaces that they must defend, alter, and/or breach within a specific space and time (One Day Project).
Group A uses cardboard to create a barrier or blockade/wall

Group B uses cardboard to breach the barrier

Group A responds with a new kind of improved barriers
Home Writing Assignment: Write a one-page reflection on today's activity and what you learned about materials and space. Email this to the instructor no less than 3 days prior to next week's class.
Home Research Assignment: Begin to collect small, found objects –scraps of plastic, printed materials, electronic parts (preferably not natural objects)­– to be use for a future project based on Kurt Schwitter's Merz Art (to be explained in class by the instructor with illustrations). In your sketchbook note the time, location as well as a minimum of three descriptive terms for each object that you collect. Look up and read about Kurt Schwitters and the Bauhaus School at home. Note that this was a modernist art movement in from the 1920s that has influenced many contemporary artists for decades including in recent years. Be prepared to discuss your readings and findings.
Questions for discussion: why is it important to connect contemporary artistic practices with those of the past? How do we make sense of the world we live in through art and culture?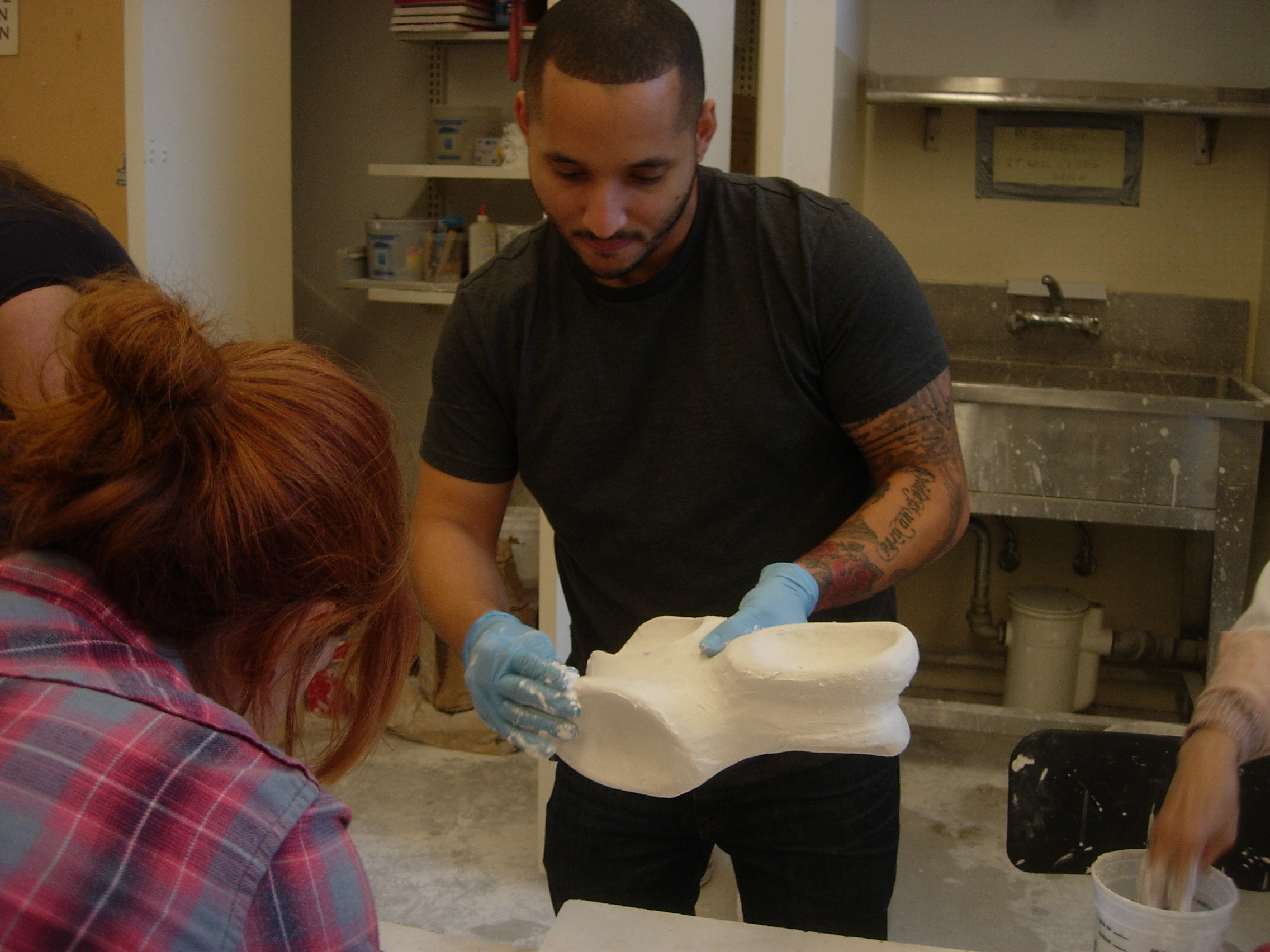 Week Two: Feb. 19, Bauhaus-inspired hand-sculpture (a one-day project). At the start of class students cast three batches of plaster into small containers. The instructor will then present a slideshow on the German Bauhaus School and its ideas, and based on your home research we will discuss this pivotal art movement of the 1920s. Once the plaster has hardened, you will carve the first block into a shape that fits comfortably in your own hand. Revise the form as a second carving with the second plaster block. Revise the form again to create a third hand-held sculpture with the third block. The instructor will present a Power Point demonstration about various alternate formal, sculptural and material ideas related to our course, as well as explore ways to approach critical analysis based on the core readings.
Question for discussion: based on your home research explain and defend the work of Kurt Schwitters and the Bauhaus school, and contrast this early 20th Century 3D Design it to present day appliances and information technology that you are familiar with as a comparison.
*Please bring to class 3 large sixed coffee cups or similar size containers, and clothes that can get dirty.
Home Writing Assignment/Oral Presentation: Write a one page "ode" to your sculpture. This can be written in a purely descriptive style, or it could use the language of poetry. But either way, this text must clearly express the nature of the object you created, its relationship to your body, and what possible use this experiment might have in real life. You will read your "ode" during the next class while presenting your hand-sculpture for evaluation. Be sure to provide the instructor with a printout of your text.
* For inspiration review this reenactment by Michael Schmid to prepare for your oral presentation: https://www.youtube.com/watch?v=PXtDkAnJx7o&nohtml5=False Note the use of repetition, tonal shifts, and the almost "physical" nature of language as if spoken words were becoming a sculptural medium and be sure to convey some aspects of this serious play into your presentation. Schwitters own poetry reading is found here:
https://www.youtube.com/watch?v=6X7E2i0KMqM
Week Three: Oral presentations of your "ode" to three hand-sculptures.  Each student will read and act out her or his written "ode," while displaying to the class the plaster pieces that inspired the text. The class will engage in an evaluative discussion about each person's presentation providing reasoned, constructive feedback about each project.
Question for discussion: In what specific ways do the disciplines of the visual arts and both written and spoken language overlap and relate with each other, and in what ways are they uniquely different?
Week Four: Shoes For This And Other Worlds (a two-week project).
This project invites students to re-imagine their everyday life and its seemingly utilitarian objects from a completely new point of view. You will design a pair of shoes useful for a specific profession or for walking in places that would normally be very dangerous or impossible. For example: what sort of shoes would you need to cut across certain otherwise inaccessible locations on QC Campus, or on the nearby busy streets of NYC? How would you design a pair of shoes to let you move around in very harsh climates, or hostile planets? What about a pair of shoes just right for a complicated social situation, or to help you with the kind of day to day job environment that you might wind up in someday? Please be prepared to discuss your research (see below) while we develop our projects in class.
What is the most socially difficult place to be seen on campus, and what sort of shoes would you need to make that situation "work" for you.

If you landed in a war zone (for example Georgia during the recent invasion by Russia), what shoes would you want to have designed in order to: get away, or to hide, or maybe to fight?

The surface of some asteroids are extremely cold – close to absolute zero – what sort of shoes would you need to walk there and yet still remain "fashion" conscious?

Accounting in a cubicle is a particular type of work not typically thought of as very physical but if you could create any kind of shoe for sitting at your office desk that might help you with your work, or stay in shape, or otherwise enjoy your "routine" job: what would that look like?
Research/Writing Assignment: Review the work of artist Judi Werthein who created special travel shoes for illegal immigrantS: http://news.bbc.co.uk/2/hi/4445342.stm as well as the work of artist Norene Leddy who designed safety shoes for sex workers: http://www.theaphroditeproject.tv/ Write down at least three observations and/or questions about your research and bring to class.
Oral Presentation & Question for Discussion: Be prepared to discuss the "shoe art" of Werthein and Leddy and how this work reflects the modern society we live in from a creative and imaginative perspective. Present your own sketches and notes for your shoe-project to the class, articulating how your project works, what sort of problem it solves, and why. The class will provide you with feedback that is to be incorporated into the next stage of the design.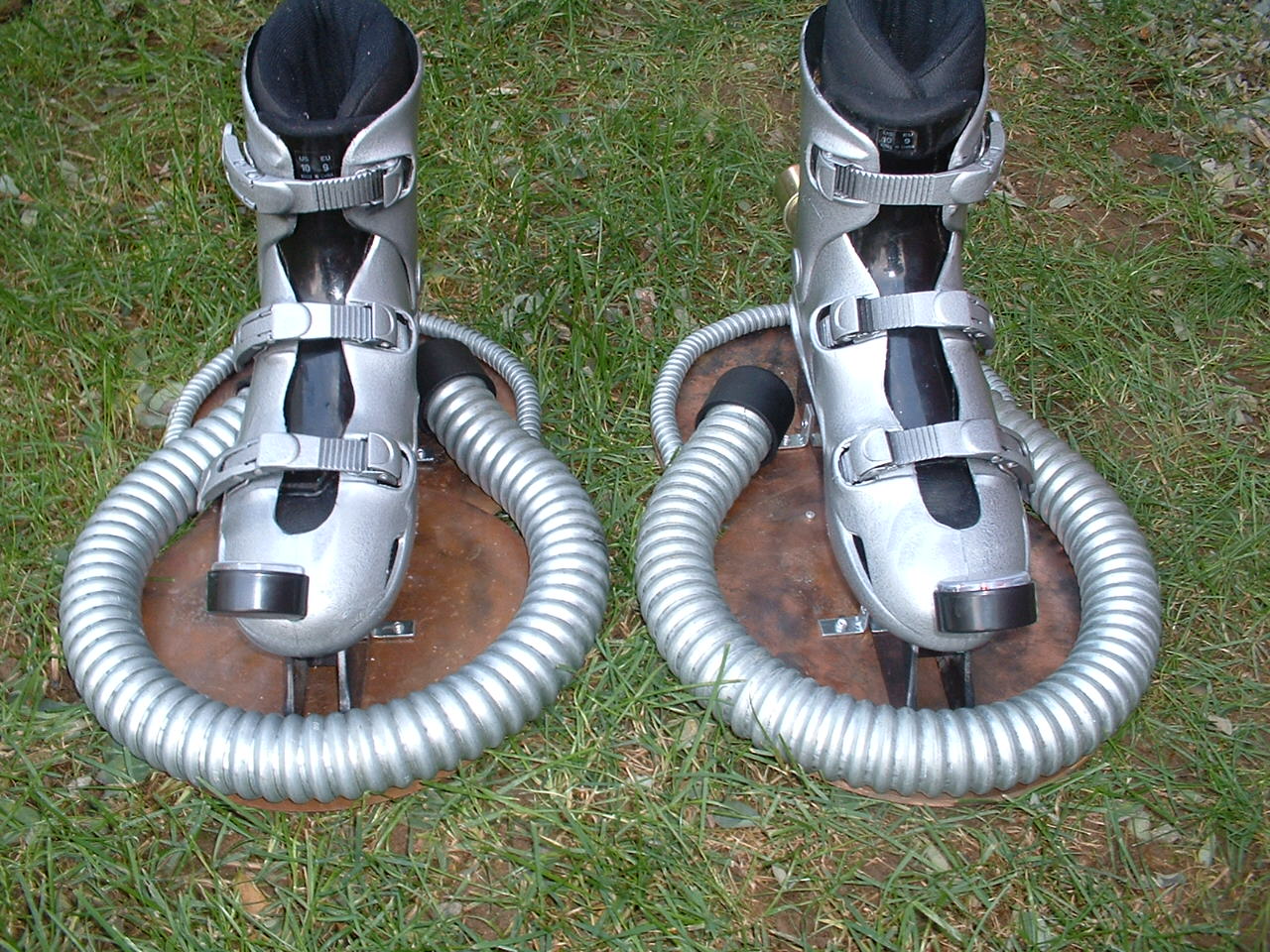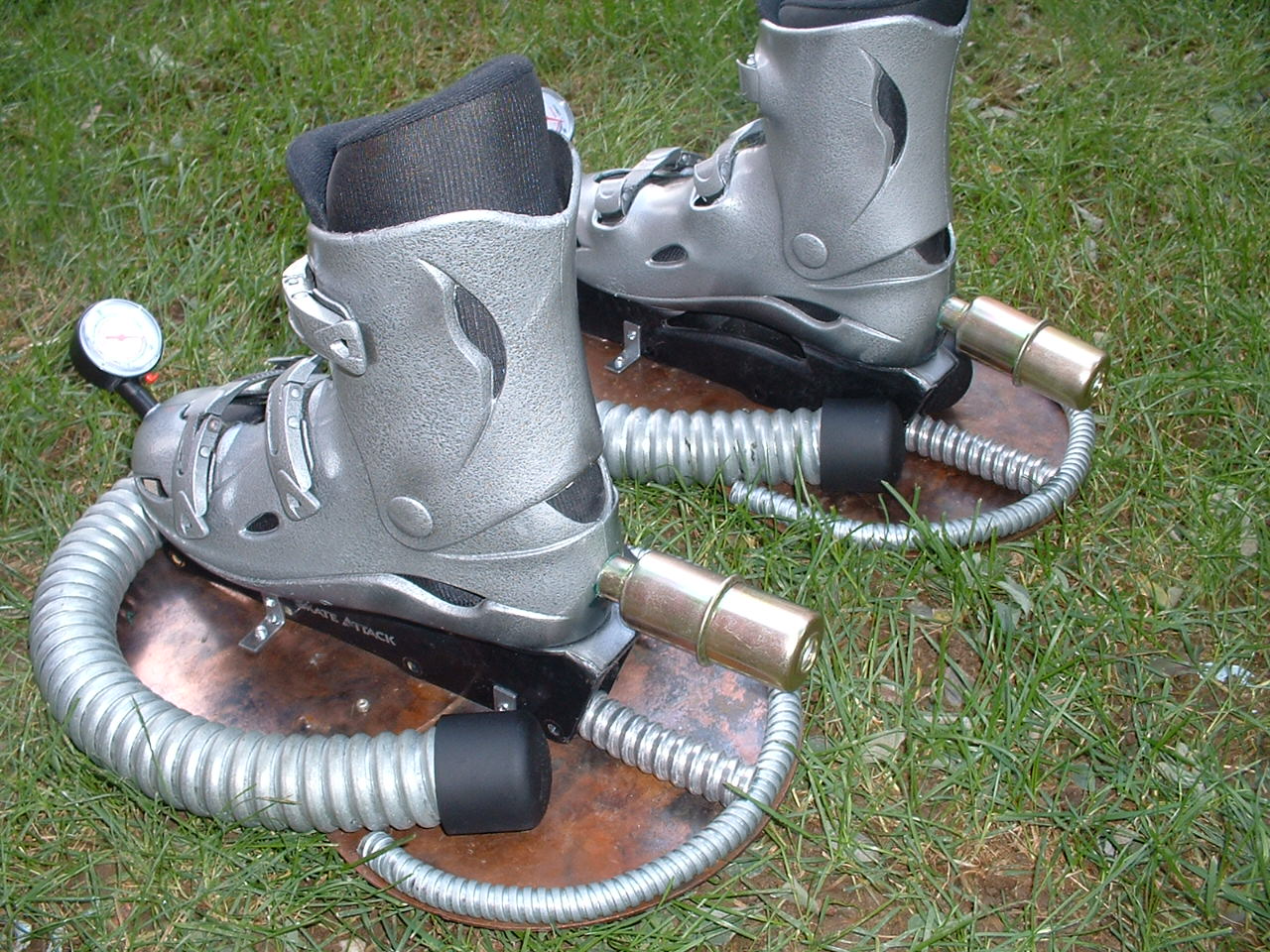 Week Five: Shoes project continued. Class will witness a demonstration of 3D Printing technology and discuss ways to incorporate this technology into you final projects. We will also complete the Shoe Project (during one half of class depending on when the 3D printer demo is scheduled.) You will also make oral presentations about your Shoe Project, referring to you research/writing assignment. Finally we will discuss next week's assignment as you begin to work ideas out in your sketchbooks.
Home Reading/Writing Assignment: Read the essay Trespassing Towards Relevance by Nato Thompson and review the book The Interventionists: User's Manual for the Creative Disruption of Everyday Life. PDF is available at: http://www.gregorysholette.com/wp-content/uploads/2011/04/Interventionists_03_14_041.pdf
Write down at least three observations and/or questions about your research and bring to class.
Week Six: Temporary Site-Specific Public Intervention (a one-day project. This assignment aims to re-experience physical spaces that you normally take for granted.
Choose a location inside or outside of the school.

Create an intervention that subtly modifies or alters one or more of the following aspects of the site: movement, conversation, emotion, opinion, ambient sound, light, etc…

Document your intervention using photography, video, sound, or however possible.

Return to classroom to present and discuss your intervention.
* Be sure to bring a digital camera or smart phone you can connect with a computer.
Home Research & Writing Assignment: Watch "The Way Things Go": https://www.youtube.com/watch?v=GXrRC3pfLnE and write down at least three observations and/or questions for your classmates (bring to class) while making sketches for your own machine.
And be sure to gather materials for next week's classroom project (see syllabus *).
(one-day). The goal of this week's class is to further develop our collaborative, three-dimensional problem-solving skills that we first explored on our first day together. After watching the short video by Fischli-Weiss "The Way Things Go" that documents an elaborate, Rube-Goldberg-like contraption, the class will be divided into smaller working groups. Each team is tasked with conceiving, designing, and building an apparatus of their own for transferring energy from one place to another through motion, electricity, wind, water, corrosion, etc. Materials can be brought to class or be those we have already explored including cardboard or plaster, or things located at the campus and temporarily tasked with this undertaking. The specific objective of each teams invented machine is the removal of an object from its current location: a pineapple placed on a shelf by the instructor. The most inventive team will be awarded the pineapple!
* Please bring to class any specific materials you think will need to carry out this project. Learning how to meld your own ideas and solutions to the problem with those of the group is essential to the success of this project. Be prepared to discuss your observations and defend your decisions based on the previous topics and research we have covered in the classroom.
Week Eight: Assemblage Relief Sculpture (two-weeks).
Begin designing and construction of the assemblage project using the found materials you have collected over the course of the semester. Be prepared to defend your aesthetic decisions to the class based on previous research, presentations and discussions from earlier weeks. We will also look at various contemporary forms of "assemblage art" and discuss the way various folk art and the artifacts of African, South American and South Pacific people also combine found materials in their cultural products and why, and how this influences artists in the "West."
Home Research & Writing Assignment: research and document at least three examples of "Assemblage" art, writing down questions about each one, and bring to class to discuss.
Examples of contemporary assemblage artists include: https://www.youtube.com/watch?v=8PF1KcGvJUw
Week Nine: Democracy Enhancement Device  Working collaboratively with teammates design and build artwork that somehow helps to enhance democracy, communication, and solidarity with other people using cardboard, wood, paper and other materials we have on hand. Once complete demonstrate the effectiveness of your apparatus. Then defend the aesthetic, practical and conceptual choices you made working together and receive feedback from the instructor and your peers.
Week Ten: Your life is the Show. (One Day) Imagine you are actually living your life within reality television show format. Design and produce a series of oversized propos made of cardboard that helps to illustrate the events in your everyday world.
Oral Presentation and Discussion: Present your ideas and the props you created in the form of a matter-of-fact analysis and enumeration of each object's role in your day-to-day life.
Week Eleven: Final Project: Insect-Machine Sculpture (final, 3-week project) Insects are amazingly complicated compact animals – some are highly social, others eat their mates– the challenge of this assignment is to ask what sort of new, hybrid insect can be invented for the age of artificial intelligence, social networks, 3D printing and robotics? Is it a warrior bug for the battlefield?; An urban survivalist creature?; A social hive of many smaller insect-units; Or an aid to planet Earth like a carbon-eating animal of some type? Or even something that enhances a person's physical or mental experience of the world (like a literal "walking stick" or a "tree hopper")? Think big, think without limits, even think nasty, but use your imagination to bring together the experiments we have carried out using sculptural and three-dimensional forms, as well as our research into contemporary art ideas in order to creatively express yourself in a new and provocative way.
Final Writing Assignment: Locate a particular insect or insects and also a set of machines or robots that inspire you. Create several pages of sketches and notes showing how these will be combined in your sculpture. Write a three page paper about what this hybrid invention does: what are its qualities, how it will be built, how it functions, and what sort of world it lives in. And don't forget to also name your new creature.
Oral Presentation: Be prepared to show you visual research and sketches and be ready to discuss your ideas with the class. You will incorporate feedback into final project and paper.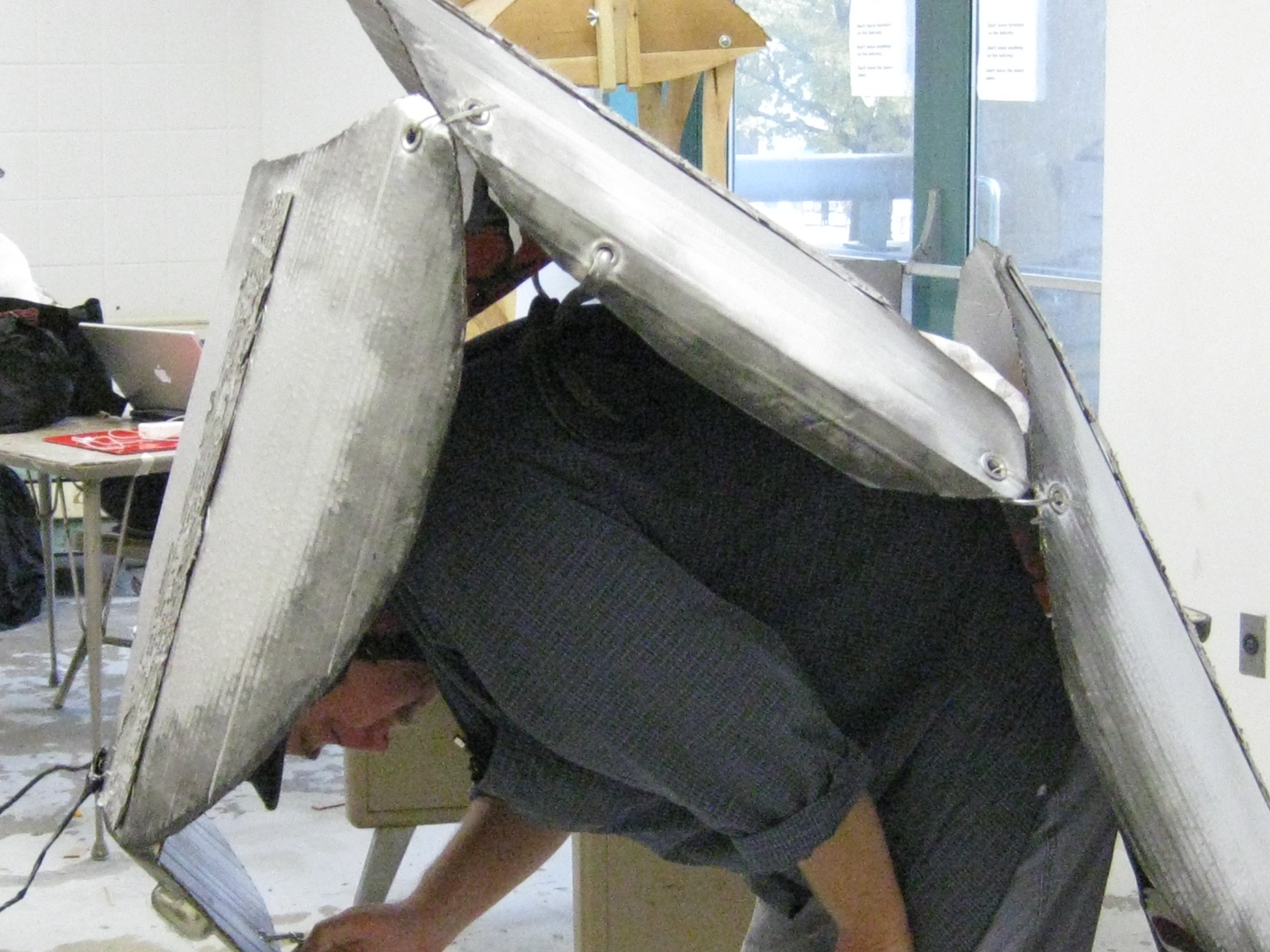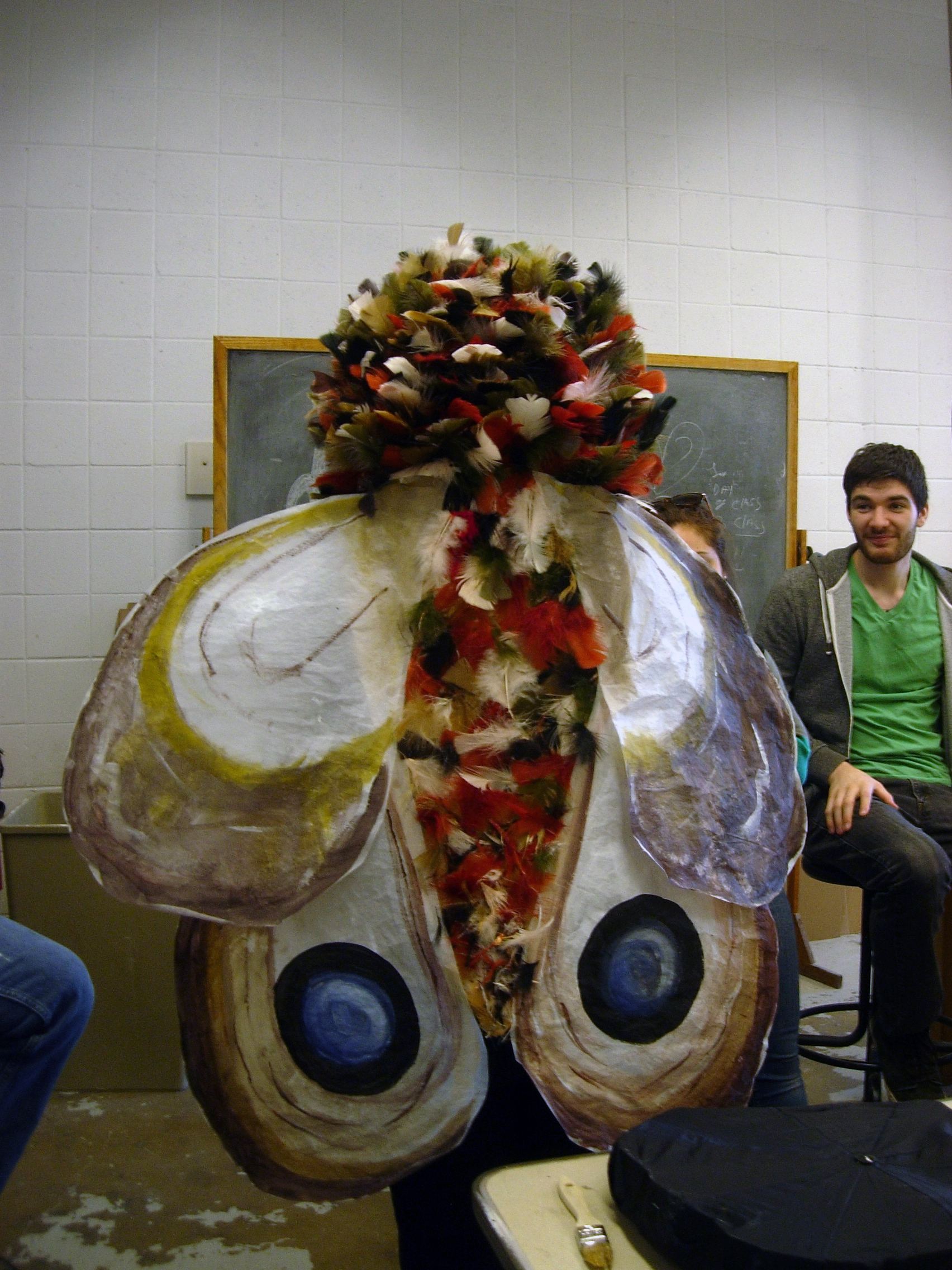 Week Twelve: Insect-Machine Sculpture …(continue working). Before you begin work on the sculpture we will discuss your proposed projects and so you must be prepared to defend your ideas, to communicate clearly what they involve, and to use research to back up your defense as well as, your writings and sketches. The class will provide constructive feedback that you must then consider incorporating into your project.
Week Thirteen: Your Insect-Machine and Final Paper are due end of today!
Oral Presentation and Discussion: Present, defend and debate your Insect-Machine.
Home Assignment: Prepare sketchbooks for the final evaluations beginning the next week.
Week Fourteen: Final Review and Critique of all work.
We will hold final critique sessions about your work. Please have all of your projects and or documentation as well as your sketchbooks ready for review.
Week Fifteen: Class Self-Evaluation.
 We conclude our final critiques of student work and engage in a group evaluation of the class, its success and any shortcomings with suggestions for how to improve it next time.


SELECT VISUAL RESOURCES FOR THIS CLASS
OTHER ONLINE RESOURCES:
Instructor's online resources webpage
Installation Art at the Tate Modern (London)
16 Contemporary Women Sculptors You Should Know
BOOKS YOU MAY WISH TO REVIEW FOR THIS COURSE:
Unexpected Art: Serendipitous Installations,
Site-Specific Works, and Surprising Interventions
by Jenny Moussa Spring, Chronicle Books, 2015.
Sculpture since 1945 (Oxford History of Art)
by Andrew Causey, Oxford Paperbacks, 1998
The Contingent Object of Contemporary Art
by Martha Buskirk, The MIT Press (February 18, 2005)
Installation Art by Claire Bishop, Tate Museum Books, 2010
                         QUEENS COLLEGE RESOURCES
The Queens College Art Library
Queens College Art Library has developed since the founding of its collection in 1937 into a leading Art library of the City University of New York. Its resources
in the visual arts and material culture address all aspects of art and architectural history, including theory, criticism, materials, techniques, and practice. Located on the top floor of the Rosenthal Library, the Art Library holds approximately 90,000 books, some 100 current periodical subscriptions and over 6,000 bound volumes, 50,000+ pamphlets and exhibition catalogs, 60,000+ images, QC M.A. theses in art history, and special collections. Many more materials are accessible electronically. The opening hours of Art have increased to equal those of the main library, with professional support scheduled Monday—Thursday 9 AM to 9 PM and Friday 9 AM to 5 PM. And there are staff colleagues ready to help. 
The Queens College Godwin-Ternbach Museum

Located on the 4th floor of Klapper Hall, the Museum is FREE
Monday–Thursday from11am–7pm and Saturday from 11am–5pm